I was a skinny eleven-year-old, a buck fifty-five dripping wet. I had just hit a growth spurt and my motor skills were rapidly developing. I was doing what your typical suburban white kid did at the time, playing tennis — white suburban people in the early 1990s also partook in hobbies such as, but not limited to, golf, polo, fencing and yachting. I wanted to win the tennis match, but my only real joy was when I charged the net like a Hunnic Marauder to Karch Kiraly, the guy on the other side (this will be a recurring theme). That was an awful strategy, and I got my ass kicked in tennis and didn't care because it was soooooo boring. I was eliminated and had a few hours to kill before my friend Conrad's parents picked us up.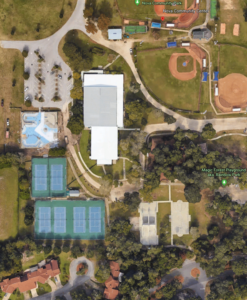 The tennis courts were adjacent to a gym called The Ormond Beach Rec Center (now Nova Rec Center). I will lucidly remember the first time I walked into the Nova Rec center until the day I punch the ultimate clock. The gym was one court with roll-up doors, to alleviate some of the Central FL August midday sweltering temperature. The sun glistened on the newly redone hardwood like a sunrise over Sydney Harbor.
I was extremely pleased to hear the familiar sounds of hot new kicks like the Jordans, Barkley's and Black Tops rasping against the hardwood. I curiously entered the box to realize it was a pickup hoops game, and after a few minutes, I realized these fellas weren't messing around. My gut tingled, I clenched my fists, made a quick rapid motion with my arm and thought "hell yeah, I get to test my skills against someone better than me". I wasn't old enough to drive a car yet so I looked at this as an opportunity to test my skill level outside my Mongoose bike range. Playing against your "vanilla skilled" friends get monotonous, you know each other's strengths/weaknesses and you fall into routines. Added bonus, it's easier to channel competitive aggression towards strangers.
As a tween, I was already 6'1", was taught how to shoot an accurate jump shot (release at the peak of your jump) and was developing post moves. I had already played against and dominated some of the best players in Central FL in the fifth and sixth grade age brackets. When the picture above was taken, we had just gotten beat by the Daytona Beach All-Stars. This was the first time LaDarius Halton (the best player I ever played with) and I really went to battle, but unfortunately, we lost. LaDarius is two years younger than me and like the rest of our team, was intimidated by the bigger more aggressive kids from the projects of Daytona Beach (the big city compared to New Smyrna Beach).
They were a deeper/older team and still narrowly won the game. LaDarius and I dominated their star players. LaDarius showed he was at a different level than most 9-year-olds. I remember two of those Daytona hombres vividly, Zeus (he was gigantic for an eighth-grader) and Chris (big, quick and athletic). In middle school basketball, getting your shot blocked hard is tantamount to getting dunked on. I Karch Kiraly'ed Zeus' shit into the stands very early in the game and the tone was set against these guys through my senior year of high school.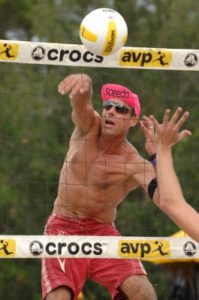 I swatted Zeus and Chris' shit in the bleachers multiple times in that game. This was in front of all their homeboys and they unleashed jovial castigations that definitely involved the word "White-Boy". It was freaking awesome! To our team, they weren't black kids from the projects or from a rougher/more competitive street landscape. They were just human beings, all created equal, and as a 12-year-old kid, I made a promise to myself that I would never let ANYONE intimidate me the rest of my life.
Without the Zeus/Chris experience, I might not have had the confidence to walk in the Nova Rec Center that day. When I walked in, a desirous and competitive side emerged that I hadn't felt before. Even if it meant getting dominated, humiliated or even injured… I wanted to play with the best.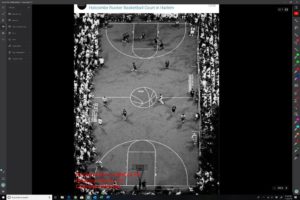 I saw this pickup game was highly competitive, made up of mostly teenagers and adults who were moving at a different quickness and jumping ability than I had ever seen. In pickup hoops, you call "set", which means you're the captain of the next team. In many cases, we'd roll in groups of five, call set and hoop all day. Games and hours flowed by into what felt like seconds. I didn't have set, but I was picked up by the team that was on deck. There was a 5'10" light-skinned, skinny, athletic-looking sixteen or seventeen-year-old black kid that was on my squad. I observed the interaction between him and the other players, watched him nonchalantly shoot around between games and realized there was something special about this person. He wasn't created equal in terms of divinely bestowed natural ability.
Once the game started, this mutation of regular baller put on an unimaginable display of all-around basketball ability and aerial acrobatics. His hops were above the stratosphere, and it looked like he was jumping off a hardwood trampoline. Not only could he skywalk, but his athleticism excelled him to the rim very explosively.
He jumped high and quick!
This was reminiscent of other above-the-rim players, that until then, I had only seen at Magic games or on TV.
We ran a few sets, I played well, rebounding, scoring in the paint and hitting a few mid-range jump shots. He dominated with behind-the-back passes, a pure stroke jump shot (his peak was like Everest) and a couple of straight vicious dunks.
Pictured: Anfernee "Penny" Hardaway (courtesy Orlando Magic)
The game concluded and this phenom and I started chatting about hoops. He was messing around, showing me iterations of dunks in flow with our conversation. It wasn't arrogant or cocky at all—almost like a young kid showing a friend a new video game move.
He would say, "watch, I can do this" and he would throw down a two-handed drop step dunk.
He then said, "check this out", and demolished a one-legged/one-handed throwdown.
I said, "can you reverse dunk?"
He said, "sure!" and effortlessly dunked backward and hung on the rim for dramatic effect. I would learn first-hand about his aerial acrobatic dramatic effects in years to come.
He then said to me, "You're pretty good man, what's your name and where are you going to high school"?
I said, "I'm Dave Cobb and I'm going to NSB High. What about you?"
He said, "I'm Vince Carter and I'm going to Mainland."
I said, "going to Mainland? How old are you?" 
 He said, "I'm 12."
Final Thought:
Never let another human being intimidate you, even if that person is significantly more talented. Surround yourself with the best and brightest! Success and personal greatness will never be acquired without solid fundamentals. Vince's family upbringing assured a solid work. And he realized that to be special at hoops he needed to work hard and capitalize on his God-given talent. I mentioned fundamentals because they go far beyond the sports definition. Vince inherently embodies persistence, longevity (he is still playing in and will turn 43 in January), philanthropy, and humility more than anyone that I can think of that I know personally. I cannot express how fortunate and appreciative I feel to have had just a fleeting glimpse of Vince's path to personal greatness.
*I put Jordan, Magic, Larry & Chuck at the front because they were my favorite players (especially the round-mound-of-rebound) and I knew Vince was destined to follow in their footsteps. Unfortunately, championships eluded Charles & Vince. I also wanted to throw off the audience for dramatic effect.
**In the next story, I'll talk about Vince's early high school days, my buddies/his teammates Joe and TT, our competition and there will be videos of Vinsanity straight humiliating me. Now that I'm not straight-up embarrassed anymore, in reflection, I realize how awesome it is that I had beyond a front-row seat.
I will also discuss some of Vince's/Michell's selfless gestures over the years and their Embassy of Hope Foundation.
***In part three I'll tell all about when my hoop dream died. I hung up the kicks and quit college basketball. The decision triggered a chain of events that lead to a different type of hoop dream on a different continent. This all has shaped who I am today and I'll give advice and tips I learned on my journey that involves:
Networking and connecting people
Putting yourself in unfamiliar environments because it's the only way to grow
Stories of humility and learning from interactions with dynamic people
Thank you so much for reading!!!